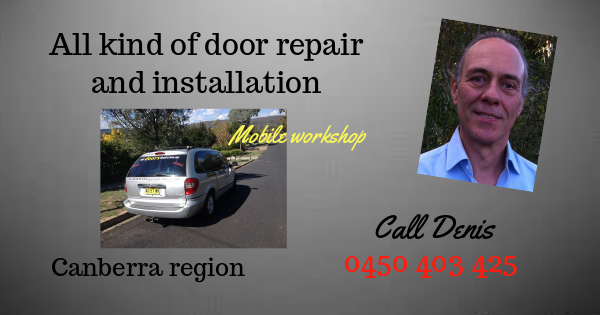 CANBERRA     -   ACT   -   QUEANBEYAN 
We replace the rollers and fix the tracks and weather stips on all sliding doors, aluminium sliding doors, wardrobe sliding doors, timber sliding doors, bifold doors, Sliding Patio doors, or Folding doors.

SCREEN DOORS and FLY SCREEN mesh replacement
We replace the mesh on most screen doors. Standard mesh or pet mesh


INTERNAL SLIDING and POCKET DOORS
 We can install and repair all pocket doors or off wall sliding doors


INTERNAL, EXTERNAL DOORS and FIRE DOORS

Fitting, installation or repair of  internal and external wooden doors, French doors, interior closet doors, sliding doors, interior glass doors, bypass doors, privacy doors, mirrored doors, or interior panel doors. We also service prehung doors, decorative doors, bedroom or bathroom doors, interior shutter doors, etc. Dolars saving for the Queanbeyan customers

TIMBER SLIDING DOORS and ROLLERS
We fix, install, or fit all types of Timber Sliding doors, cavity doors, cavity sliders

ALUMINIUM SLIDING DOORS and ROLLERS
We repair, install, or fit all types of Aluminium Sliding doors
We can do French door fittings, installation or even repair. We also can suggest where to buy them from if you need to know.
Bifold doors are doors designed to be used in closets, pantries, and in some cases as folding doors between rooms. Bifold doors are always done in pairs, with two doors folding to one side, or with four doors, split in the center of the opening, with two doors folding back to each side. We can do Bifold doors fitting, installation and repair.
We fix, install, or fit all types of Front Entry doors into the existing frame,
We build the new doors jamb to suit all kind of entrance.

PANORAMIC DOORS Timber Or alluminium
Panoramic Doors are a mainly for garden rooms giving total access to a view of your garden. The folding doors act as a single or double door and when folded away they provide a unique panorama of your garden. Any or all walls can be fitted with Panoramic Doors. We can repair, install or even fit Panoramic doors.
We fix, install, or fit all types of dog and cat Doors and weather seals
 KITCHEN DOORS and CUSTOM MADE Timber doors
kitchen new or revamp