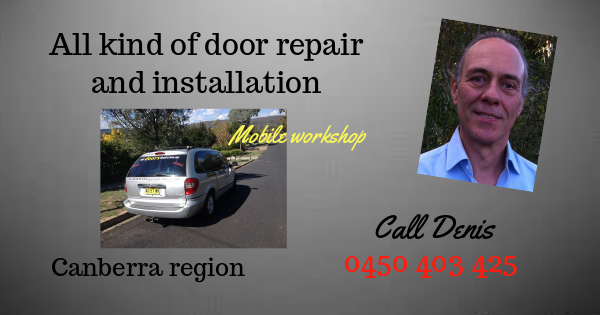 CANBERRA     -   ACT   -   QUEANBEYAN 
         
Specialist in door maintenance in Canberra region Since 2004                                           
All Sliding doors need maintenance every 20 years on average depending on the intensity of use. It is preferable to anticipate the replacement of the wheels before they damage the track.

We replace the rollers and fix the tracks and weather stips if necesary on all sliding doors, aluminium sliding doors, wardrobe sliding doors, timber sliding doors, bifold doors, Sliding Patio doors, or Folding doors.
When the track is dented or grinded over repair we can cap it with stainless steel.


SCREEN DOORS and FLY SCREEN mesh replacement
We replace the mesh on most screen doors. pet mesh only


INTERNAL SLIDING and POCKET DOORS
 We can install and repair all pocket doors or off wall sliding doors


TIMBER SLIDING DOORS and ROLLERS
We SERVICE, install, or fit all types of Timber Sliding doors, cavity doors, cavity sliders